Medela FLEX breastshield

* Sold as 1 single breastshield funnel only. This is size 27mm - Large. One.
Breast shields play a key role in pumping comfort and efficiency. That's why Medela incorporated the new Flex™ technology that's shaped around you.
With Medela's new PersonalFit Flex breast shield, you can easily adapt the way your Medela pump fits to help you find the most comfortable, most efficient position to pump – even as your breast shape changes. It's a whole new pumping experience, personalised to you. (Quite different to their original breastshields which were a rigid circular shape)
The new Flex breast shield is designed to easily adapt to your shape, and encourages your milk flow by helping prevent compression of the milk ducts. This makes it easier for every mum to find the pumping position that's most comfortable. Resulting in more comfortable, more efficient expressing, shaped around you.
- 105° angle improves fit for better milk flow
- Oval shape can be rotated 360°
- Soft, smooth, flexible rim (not hard rigid plastic)
- Four tunnel sizes available– see the Size Tab tab for more info.
- Made from BPA-free materials
Works with all medela pumps.
Note from us: The breastshield is the part of the pump that fits directly over your nipple and forms a seal around the areola. It's very important that you have a correctly fitting breast shield, in terms of both comfort and how much milk you can express. The breastshield should tightly close around your nipple, while still leaving enough room for it to move back and forth.
Many women are not aware that breast pump shields come in different sizes, and that there is a lot of variation of nipple sizes - regardless of breast cup size. Having the wrong size shield can cause discomfort, and limit the amount of milk you can express.
All Medela breast pumps are originally sold with a 24mm (M) standard size breastshield in the boxed set, which suits most women. Though sometimes it isn't right - but it's something you'll only know after you have started using your pump. If you are finding that your nipple rubs along the edge of the tunnel as the pump is operating, then you should try a larger size.
This "Flex" shield will work with all medela pumps.
* Sold as 1 single breastshield funnel only. This is size 27mm - Large. One.
We also have available size 21mm,24mm, 27mm, 30mm sold separately.
Refer to Size Tab for more info on sizing and how to measure your size. Refer to the Video Tab to see a schematic showing you how your nipple should look while you are pumping.
Size Guide
Choosing the right Breastshield size for your Medela Pump
Pumping should not hurt. For maximum comfort and pumping efficiency, Medela pumps have five breast shield sizes available to suit all women. This guide below is a starting point, to help you determine your optimal shield size based on your nipple diameter.
We also have a video for you to watch on the "video" tab which is a schematic showing you how the nipple should move while pumping.
Step One: This can be difficult, but use a ruler or measuring tape, to get the diameter of your nipple at base (across the middle), do NOT include areola. Measure in mm. Please refer to diagram below.
Our Tip: Use a piece of string to go around the circumference of your nipple base. Then measure this against a ruler. Apply some maths : circumference divided by PIE (3.1417) will give you the diameter.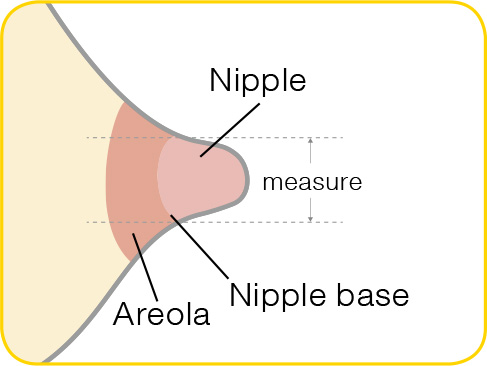 Step Two: Based on your diameter measurement, determine the Breastshield size based on the diagram below. For example, if your nipple size measures 26mm diameter, the recommended Medela Breast Shield size is 30mm.
We also have available size 21mm, 24mm, 27mm, 30mm sold separately. If you need larger than 30mm, we have a different option size 36mm Breastshield
Reasons to Try a New Size
* Does your nipple rub the tunnel sides to the point of causing discomfort?
* Do you see excessive areola being pulled into the tunnel?
* Do you see redness?
* Is your nipple or areola turning white?
* Do you feel unexpressed milk after pumping.
If you answered YES to any of these questions, consider trying a new size by following the measuring instructions above.